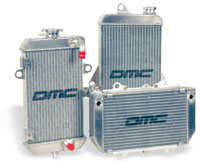 DMC Radiators represent cutting edge technology in high performance cooling. With 18 fins per inch and 100% TIG welding, DMC radiators are constructed with aircraft quality aluminum alloy and feature oven brazed cores (no epoxy), making them strong and durable. These radiators are a direct replacement for the OEM radiator and eliminate the problem of cracking plastic tanks. Our radiators come polished to near-chrome shine.
20-30% increase in fluid capacity.
Reduce engine temperatures 20-40%.
Consistent cooling temperature range.
Bolts directly in place of stock radiator with no modifications.
Priced at or below stock replacement cost.
Robust construction reduces crash damage.
High performance oven brazed aluminum cores.
Tough aircraft aluminum alloy construction.
Maximum strength TIG welded.
Billet/CNC coolant filler neck.
All connector tubes are precision mandrel bent.
30psi radiator cap.
Select radiator category to view details...